Barking is a natural dog behaviour but inappropriate barking can easily become an annoying habit.You need a dog collar to change it.

Our intelligent automatic bark collar will quickly and easily teach your dog not to bark, and thanks to the humane and safe dog bark collar with only vibration and sound.Microprocessor controlled. No pain whatsoever. Just gentle reminders.

Cautions Before Using:

1.Please adjust the dog collar to a apposite size, it is necessary that the prone touch dogs' skin, too loose may cause no reaction, and too tight may cause skin damage even causing difficultly in breathing.Make sure probes are s finger width apart from dog's neck.(stick your finger between dog's neck and the prodes to test)
2.Do not wear it on your dogs for more than 6-10 hours to avoid pressure necrosis due to the probes touching the skin.
3.Do not put on dog when dog is sleeping,laying,or unattended.
4.Do not put the collar on your dog without first testing it under any circumstances
5.Please be on the alert: if your dogs keeping barking, an emergency needs to be dealt with.
6.Examine the contact area daily for signs of a rash or a sore, If a rash or sore is found and the condition persists beyond 48 hours, see your vet.

The Dog Bark Control how to work:


In the beginning, adjust the sensitivity level of the bark with the help of the easy buttons, "+" and "- "
A warning tone will follow your dog's first and second bark.The sound is beep beep. If your dog barks a third time, wireless no shock collar will meet the warning tone and vibration.
The intensity of the vibration will be maintained until the 7th bark.
Then turn on sleep mode, dog training collar will stop working for 1 minutes.
There are total 7sensitivity levels. The 4th level is set automatically after installing the battery.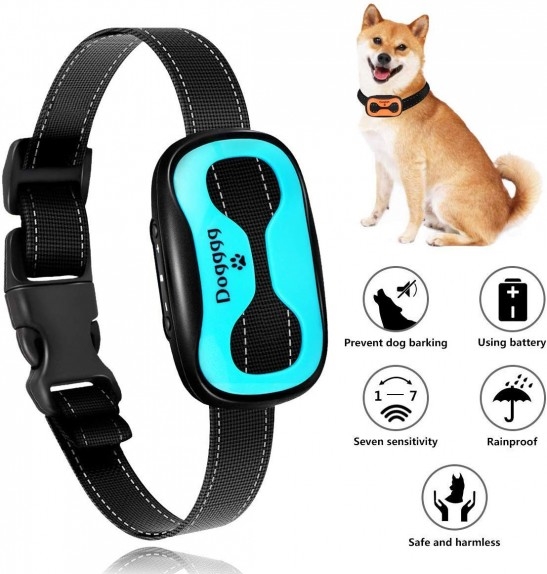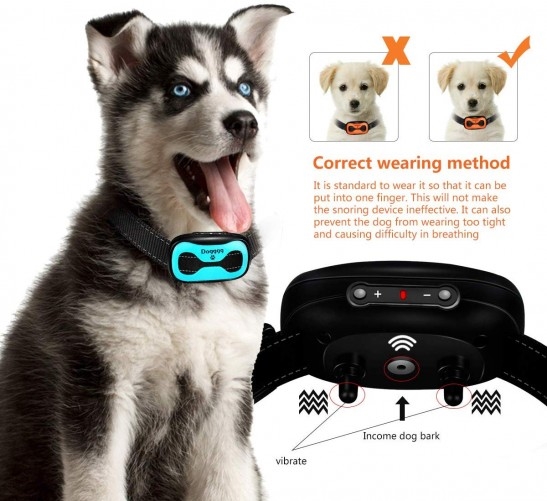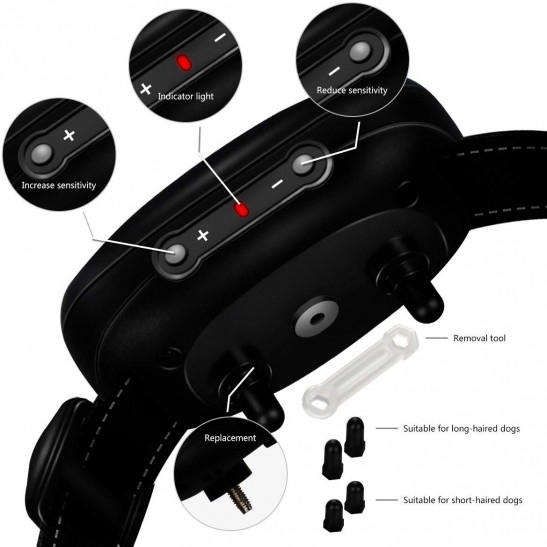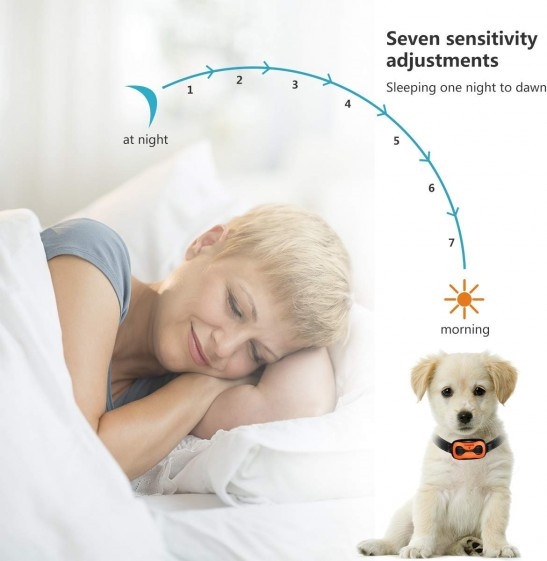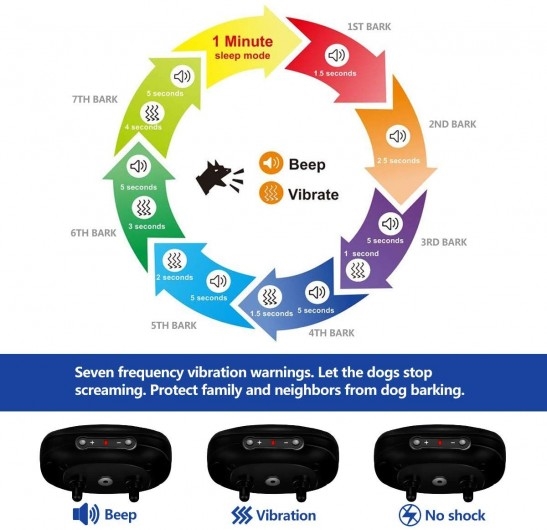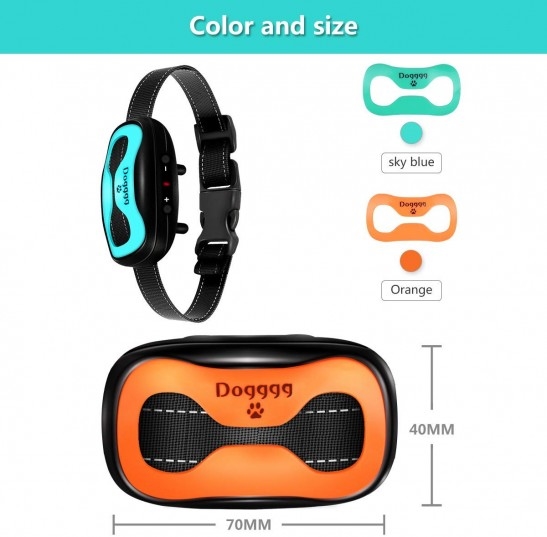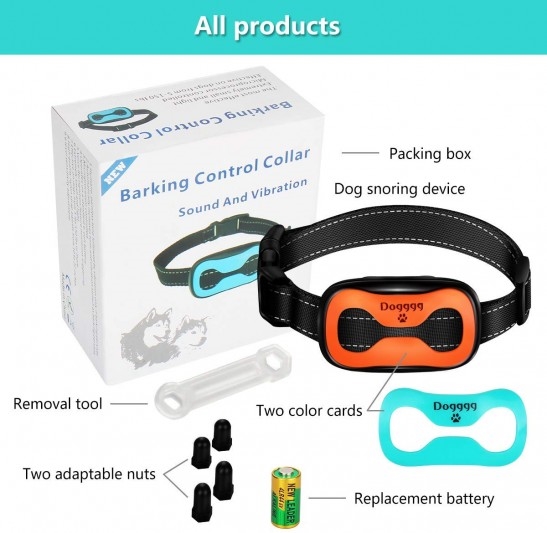 【Best Choice For You and Your Dog】Have you ever feel sorry for disturbing your neighbors because of the continual and loudly bark of your dog? Are you tired of shocking your dog stop barking? Now with the Dogggg Bark Collar no accidental bark would happen to your dog anymore, just train your dog associate with this anti barking device with little effort!
【Harmless, Humane, and Quick result】This anti-barking collar can detect the movement of your dog's vocal chords. Detect and stop the bark before it really happen. If your dog continues to bark, the sensitivity will increase through all seven levels. Once barking stops for at least 30 seconds, the anti bark collar resets. Should barking continue at Level 7, the anti bark collar turns off for 1 minute to ensure safety.
【Adjustable Collar】High-quality nylon strap with reflective stripes is easily adjustable and this anti barking collar is effective on dogs from 5lbs to150lbs or even bigger. The strap has a length of 24 Inch, it is the perfect anti bark collar for small, medium and large dogs.
【ALL-WEATHER】 This new & improved no bark collar is certified according to IPX6 Waterproof Standard. Now you can walk your pet in rain and in snow and temperatures up to 450 F degrees !
【30 DAY MONEY BACK GUARANTEE】 If our no-shock dog barking collar doesn't restore peace to your home, return it for a 100% refund of your purchase price. To get the best results of using the Anti-bark collar, we suggest that customers making the most suitable dog collar adjustment for your dogs. Ensure that no more than one finger can pass through the collar.