Feel Younger & Perform Stronger with Glutathione Support from RiboCeine™What are some of the benefits of boosting your glutathione levels with Max Cellgevity?
Product Description:
An increase in your energy levels and stamina
A stronger immune system
Faster recovery from exercise
Deeper sleep
Sharpened mental focus
Decrease in joint discomfort and inflammation
Improvement in heart and lung function liver detoxification
Less stress slows the aging process
Cellgevity: Feel Younger & Perform Stronger with Glutathione Support from RiboCeine™What are some of the benefits of boosting your glutathione levels with Max Cellgevity?An increase in your energy levels and staminaA stronger immune systemFaster recovery from exerciseDeeper sleepSharpened mental focusDecrease in joint discomfort and inflammationImprovement in heart and lung functionLiver detoxificationLess stressSlows the aging processCellgevity is Max's premiere formula and features our proprietary RiboCeine™ technology, a special blend of D-Ribose and L-Cysteine, combined with an all-star collection of 12 complementary ingredients to more effectively enhance the function of glutathione within your body.Our bodies create glutathione to defend against violent attackers like free radicals, chemical toxins, heavy metals, and other influences that can negatively affect our overall health. Glutathione also works to regulate, recycle, and repair other antioxidants within your body. As we age, the levels of this important molecule are depleted by every-day trauma including physical and mental stress, poor diet, and lack of sleep.Give your body the advanced Glutathione support it deservesAdvanced RiboCeine™ formula featuring 12 supplemental ingredientsProvides protection from oxidative stress and free radicalsSupports cellular function and health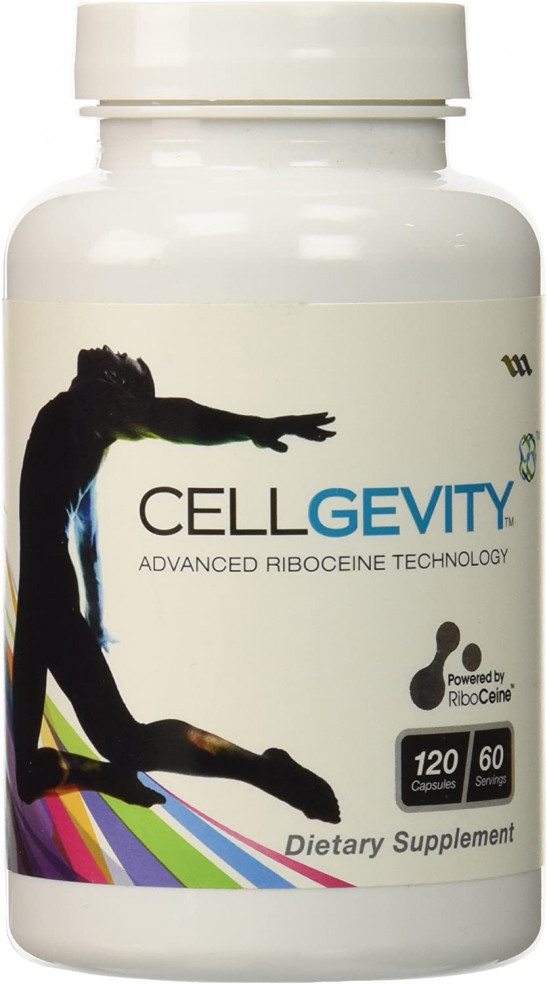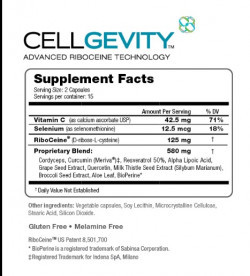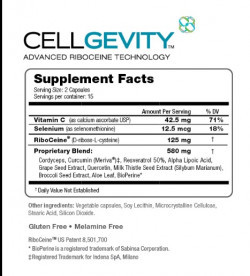 CELLGEVITY 1 Month Supply / 120 Capsules
When CELLGEVITY 1 Month Supply was originally introduced to the public, the first issue that people had was if it could actually safeguard the cysteine molecule and transport it to the cells undamaged. And, due to Advanced Riboceine Technology, the answer is yes!
Protecting the cysteine molecule determines whether or not your body can produce additional glutathione. When you read the peer-reviewed publications that support the Riboceine component in Cellgevity, you'll see that no other product on the market compares to its capacity to sustain intracellular glutathione levels.
Product details:
Cellgevity combines advanced RiboCeine technology with twelve synergistic ingredients to form Max International's most effective health supplement.​
RiboCeine has significantly outperformed all other means of glutathione enhancement against which it has been tested.1*
Cellgevity includes a powerful source of curcumin that has been scientifically shown to have a 29% improved bioavailability than common sources of curcumin.*
The broccoli seed extract in Cellgevity uses the highest concentration of the active ingredient sulforaphane glucosinolate and is the same product used in the studies at the Johns Hopkins University School of Medicine.
Buy this cellgevity by max international from eishops.com now!!