Helps support Kids energy, heart, brain, eye, digestive and immune health
Handcrafted with whole food ingredients bursting with vitamins, minerals, prebiotics + 20 fruits and vegetables
Taste great, easy to swallow with fast absorption benefits of a food-based liquid vitamin.
Contains food folate (as certified organic spinach) and soy-free vitamin E as non-GMO sunflower oil
Allergy friendly, fruit & plant based, vegetarian suitable, organic spinach as folate, benzoate free, sulfite free, non-GMO, gluten free, soy free, nut free, No artificial colors, flavors or preservatives
Peach & Mango 'Fruits & Greens' Kids Liquid Multivitamin is a delicious way for your kids to get their Recommended 100% Daily Vitamins. Handcrafted with whole food ingredients: Food Folate (Certified Organic Spinach), Calcium (as calcium citrate and sea minerals), Magnesium (as magnesium citrate sea minerals), Soy Free Vitamin E as Non-GMO Sunflower oil. balanced essentials liquid vitamin. (Multivitamin Liquid.)
Why Go Healthy Natural?
We use plant-based, ​healthier, allergy friendly ingredients.
Taste great, easy to swallow with fast absorption benefits of a food-based liquid vitamin
Our company complies with GMP and FDA practices to ensure safety and efficacy of our products.
The strict manufacturing standards result in the production of high-quality and natural dietary supplements.
We are a family-owned business that cares about the health of our customers.
Healthier Ingredients, Healthier Kids!
Handcrafted with whole food ingredients bursting with vitamins, minerals, prebiotics, fiber and 20+ fruits and vegetables
Food folate (as organic spinach)
Soy-free vitamin E as non-GMO sunflower oil.
Our formula contains a unique marine multimineral complex, providing bioactive calcium, magnesium and 72 other trace marine minerals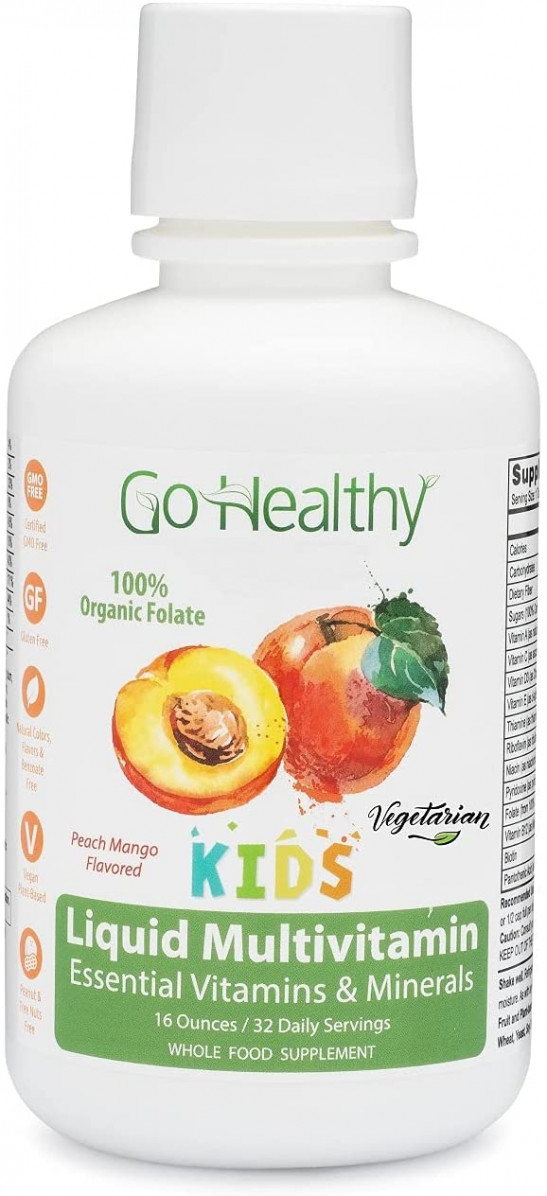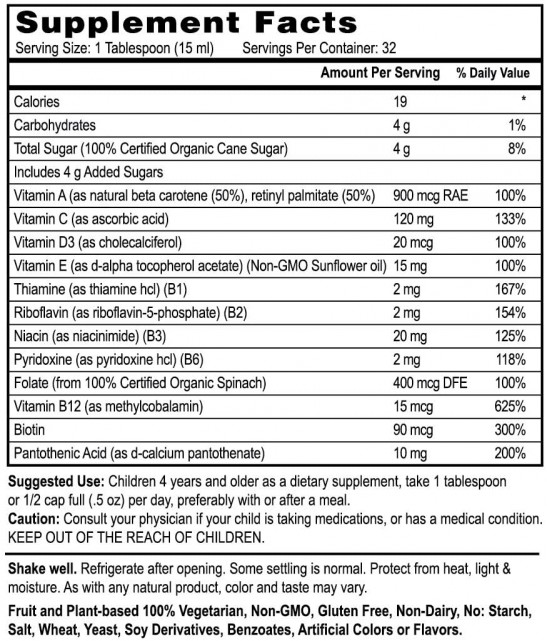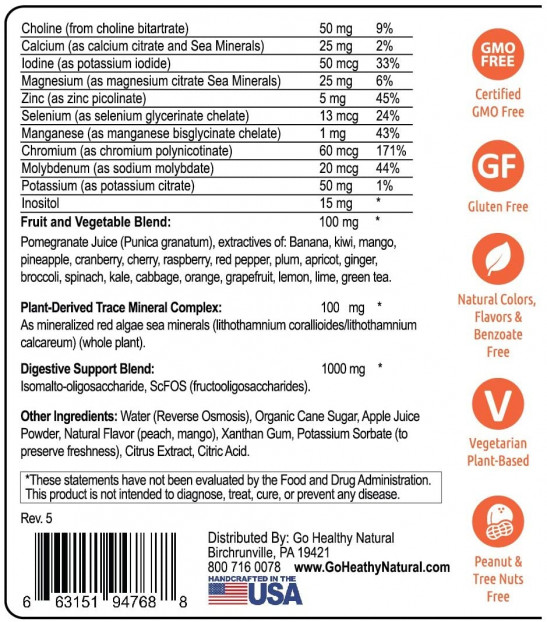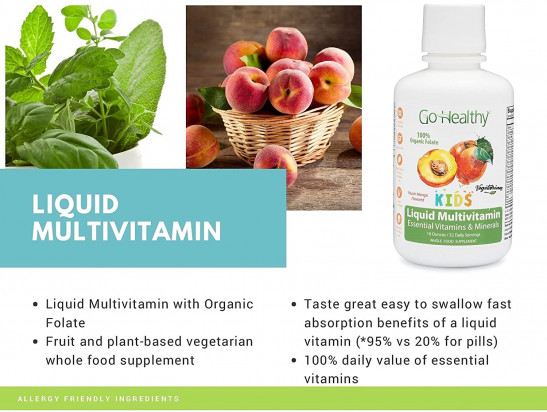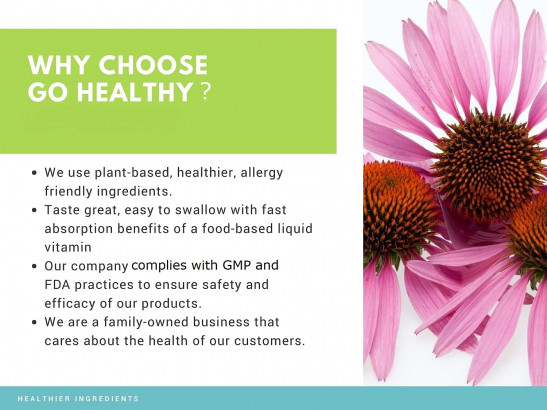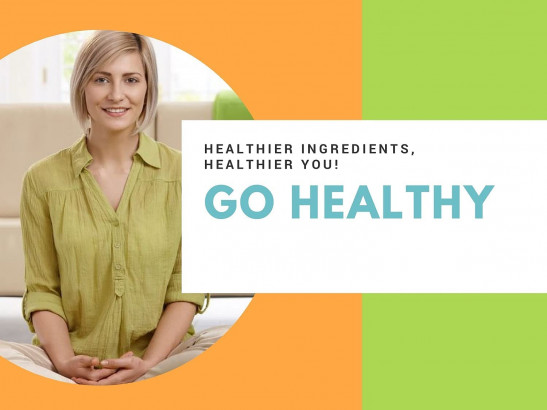 Go Healthy Kids Liquid Multivitamin Organic Folate Vegetarian Plant-Based Whole Food 32 Servings Easy to swallow with fast absorption benefits of a food-based liquid vitamin. Our go healthy natural liquid multivitamin is plant-based pectin gummies are softer than animal-based gelatin gummies and don't stick to your teeth. Gelatin Free, GMO-Free, Gluten Free, Peanut & Nut Tree Free, No Artificial Preservatives, Colors or Flavors, Soy, Eggs, Milk, Yeast, Wheat (Gluten), Fish or Shellfish is the best liquid multivitamin for kids. Buy this go healthy natural supplements From eishops.com
| | |
| --- | --- |
| Primary Supplement Type | Multivitamins |
| Brand | Go Healthy Natural |
| Item Form | Liquid |
| Specific Uses For Product | Immune support, Digestive, Heart & Brain Health. |
| Age Range (Description) | Adult |
---
About this item
Helps support Kids energy, heart, brain, eye, digestive and immune health
Handcrafted in USA with whole food ingredients bursting with vitamins, minerals, prebiotics + 35 fruits and vegetables
Easy to swallow with fast absorption benefits of a food-based liquid vitamin.
Contains food folate (as certified organic spinach) and soy-free vitamin E as non-GMO sunflower oil
Allergy friendly, fruit & plant based, vegetarian, 100% organic spinach as folate, benzoate free, sulfite free, non-GMO, gluten free, soy free, nut free, No artificial colors, flavors or preservatives