IONI 3D Faux Mink Lashes XL Wispy Full Dramatic
Have you ever admired the actress's incredible lashes? Don't be concerned. This pair of false eyelashes will make you look as good as they do. The Ioni Faux Mink lashes Wispy Doll Crisscross can brighten up your eyes and go with any makeup look you have on. You'll get just the correct amount of volume, resulting in a full, beautiful flutter in person and on camera. Stick to false lashes that highlight your eyes without overdoing it! This Signature Knot-Free invisiband offers an undetectable lash band and the most comfortable wear that blends in seamlessly with your natural lashes. Wear on important events to provide that additional bit of glitz and sparkle. You may rest confident that your phonies will stay in place all day and night!
3D mink lashes are clustered lashes that give a more dramatic impression. Individual minks are preferred for those who want to have a look as close to the natural as possible. Because real mink extensions are so light, you can use multiple minks per natural lash to create a fluffy, airy, and delicate look.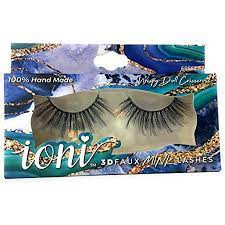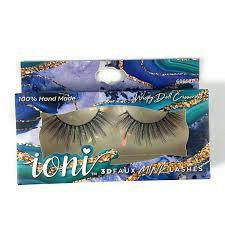 Product Specification:
✷ Medium length, light volume lashes with a little flair
✷ At the base of the lash, there is a slight crisscrossing.
✷ Invisiband is a lash band that is virtually unnoticeable and extremely comfortable to wear.
✷ Check the fit by aligning the lash band with your natural lash line. If necessary, trim the outside end. Wait 30 seconds for the lash adhesive to set after applying a thin line on the band. Press the lash into the lash line to keep it in place.
✷ To reuse the band, just peel off the lash from the outer edge and carefully remove the adhesive.
✷ Cruelty free Natural item
Ioni 3D Faux Mink Lashes Wispy Doll is the best part wear mink lashes with full volume dramatic eyes effect that highlight your eyes without overdoing it.