Stylize your baby's car seat with our chic and timeless Lucas stretch cover! Dark navy and white stripes are the perfect calming contrast every mom needs.
Product Details:
The Lucas Stretch Cover fits most makes and models of infant car seats
Multi-Use Cover for Every Mother: car seat canopy, baby car seat cover, privacy nursing cover, light blanket, shopping cart cover, feeding chair cover, diaper changing cover and even a infinity scarf.
360° Full Privacy Breastfeeding Coverage: Poncho Design gives breastfeeding mother provides full coverage and private space when breastfeeding in public. Just take 5 seconds to wear nursing cover, everything is so simple! With a 9.84ft hem, it can suit for various size bodies.
Full Protection for Your Baby: Keeps your baby from sunlight, summer heat and wind, while maintaining your privacy.
Baby-Approved Fabric Material: Skin-friendly and cool Milk Fabric, super lightweight and soft nursing cover, keeping your baby cool, comfortable, and happy while on the go.
The Perfect Baby Shower Gift: Definitely usable & appreciated by new mothers. Great for boys and girls, best unisex gift for baby showers, or simply a great present for any mom-to-be, new moms.
Machine washable, hang dry
Navy, white.
*Minor alterations may be needed on some makes and models.
Car seat NOT included
| | |
| --- | --- |
| Includes: | Carseat Canopy (Car Seat NOT Included!) |
| Material: | 96% Viscose 4% Elastane |
| Care and Cleaning: | Machine wash cold gentle cycle. Wash with like colors. Do not bleach. Tumble dry low. |
| | |
| --- | --- |
| Fabric type | 96% Viscose 4% Elastane |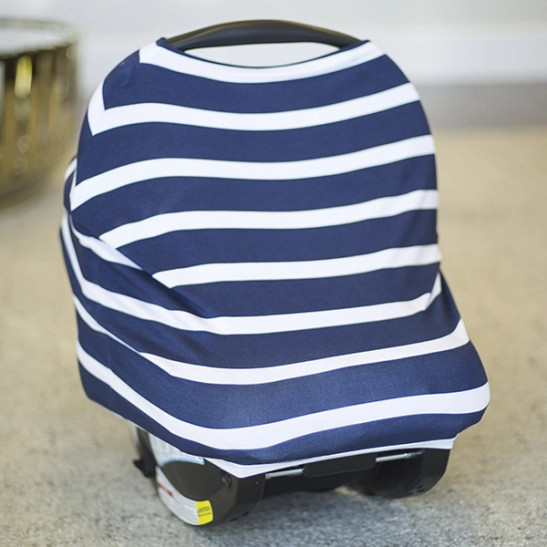 Nursing Cover || Cover in style nursing cover
Nervous about nursing in public Or Thinking about how to use nursing cover?
Use a sling or wrap. With practice, you can breastfeed your baby in most slings or wraps and the fabric of the baby carrier will cover the baby and your breast. You can even walk around while breastfeeding! This breastfeeding cover-up a baby could overheat. Try to Use this comfortable material breastfeeding cape that allows air circulation while you are feeding your baby. This breathable breastfeeding cover is perfect when you're dining out or multi-tasking like a Super Mom. Along with baby feeding cloth, you can also use this in many multiple functions like:
Nursing Cover (For when it just can't wait!)
Car Seat Canopy (Obviously)
Shopping Cart Cover (Keep Baby Clean!)
and more!
Eishops.com offers you the most comfortable cover. Buy breastfeeding cover now and enjoy moving with baby. This nursing cover cloth is like the most mandatory outing element for those who have a baby.