WARNING:
For household use only. The battery may contain mercury, dispose of it properly.
Product Details:
Brand: Vicks

Age Group: Adult

Manufacturer Part Number: V912BBUSV1

Assembled Product Weight: 0.12 lbs

Assembled Product Dimensions (L x W x H) 1.20 x 3.30 x 7.50 Inches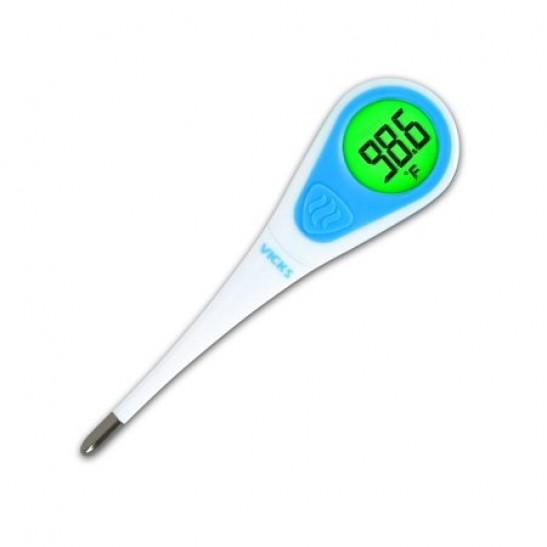 Vicks pediatric speedread thermometer || Vicks speed read thermometer
Get the accurate information needed when someone isn't feeling well with this Vicks SpeedRead Digital Thermometer with Fever Insight Technology. It provides accurate readings in only eight seconds. The Vicks pediatric speedread thermometer for Fever InSight thermometer uses color-coded displays. A green display suggests that there is no fever, while yellow signifies a slightly elevated temperature and red indicates a fever. The Vicks temperature digital thermometer V912 model can be used orally, rectally or under the arm for simple use. The device is waterproof for easy cleaning. There is also an automatic shut-off for longer battery life, so it's ready to use when needed. The Vicks speedread digital thermometer with Fever InSight Technology includes a convenient storage case and batteries.

Vicks pediatric speedread thermometer with Fever InSight Technology, V912:
Oral, rectal or underarm use
Vicks fever insight thermometer has accurate readings within +/- 0.2degreeF
8 second readings
Fever InSight technology helps the user understand the meaning of temperature readings using a color-coded display
A green display indicates no fever
A yellow display shows the temperature is slightly elevated
A red display signals a fever
Waterproof for easy, thorough cleaning
Automatic shut-off for longer battery life
Memory feature recalls and displays last temperature taken
Storage case and batteries included
Lifetime warranty under normal use
BPA-free
Professional accuracy
The Vicks speedread digital thermometer includes an enormous screen show and Fever InSight innovation for precise and agreeable readings.
Fever InSight include: Screen shading changes as indicated by temperature
8 Second temperature read-out
Shows in C° and F°
For oral, rectal or underarm use
Proficient precision
ater safe for simple cleaning
Memory review
BPA free
1 year guarantee || Cell Battery || Battery Replacement
Vicks pediatric speedread thermometer is the best digital thermometer forhead, underarms or oral use. Digital thermometer medical is rapidly growing its usefullness. This is highly used digital thermometer for fever which can measure the temparature accurately. The Vicks® SpeedRead™ Digital Thermometer with large screen display, and Fever InSight® feature makes taking temperature fast, easy and comfortable and it is accurate. Digital thermometer vicks unit offers clinically proven accuracy (+/-0.2oC) within a range of 32.2oC – 42.8oC. Temperature reading are reliable due to the unique probe assembly, advanced infrared sensor and complete calibration process.
How to Reset Vicks speed read thermometer:
Fill a glass with crushed ice.
Add a little clean water until the glass is full and stir.
Wait for about three minutes before inserting the sensor on the thermometer into the ice-filled water.
Wait for about thirty seconds and check that the thermometer reads 32°F.
So try this best Vicks speedread digital thermometer from eishops now